Channel 4: OFCOM review of financing
OFCOM
produced a review of Channel 4
and whilst I have not finished reading all the materials, I thought I'd share a few graphics which highlight the importance of Big Brother to the broadcaster.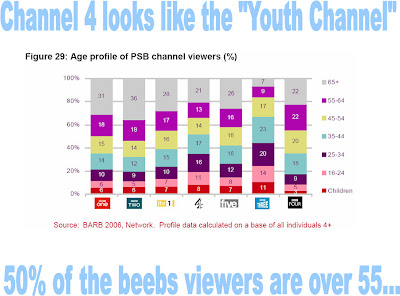 The big question is of course whether the tax payer should make up some of the dreamed up deficit from Channel 4. I haven't finishing collecting my thoughts on this as I thought it would be best to calm down before I spit out a lot of venom that I might regret later.
I've also been playing with the various 2.0 photo applications and I can honestly say that I prefer the Google Application Picasa. I originally wanted to do a slideshow and was sampling
Slideshare
, but I think the rendering is so poor that unfortunately a good concept falls down.
Flickr
as many readers will be aware is my legacy Web 2.0, but I think Picasa is actually better on rendering, much more generous on space and has better integration with the desktop. My son told me to give
PhotoBucket
a try, which I did and it appears to have good integration with blogger, but I'm a little too old to play with the MySpace generation and the transitions would do my head in after a while. And anyway, I'd never live it down if I was caught out using internet tools recommended by him ;-)